Develop individual, team and organisational capability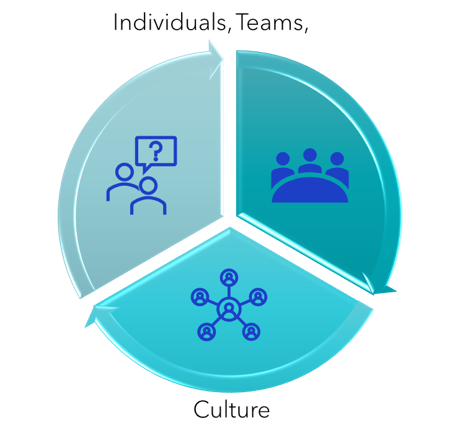 We believe coaches need to have a coaching repertoire of breadth and depth in order to coach effectively and meet the needs and the multiple contexts of the client in our care.
Coaching for us is about increasing client awareness and insight, so they can build their confidence and commitment to take the action necessary to achieve their goals and realise their ambitions.
We provide coaching services in three areas of focus;
Individual executive and leadership coaching
Team coaching
Developing a coaching culture (part of our Culture First practice)
EXECUTIVE & LEADERSHIP COACHING
Several benefits can be achieved from coaching:
Greater ability to deal with change and transition
Enhanced performance, motivation and productivity
Strengthened personal adaptability and resilience
Amplified cognitive agility and emotional intelligence
More successful and satisfying working relationships
Each coaching assignment is approached with consideration to its unique characteristics and specific outcomes.
TEAM COACHING
We coach intact teams on real-world issues, helping them to solve VUCA challenges, so enabling teams to develop mindset, skills, knowledge and greater agility to manage these issues more effectively.
Unlike team building or facilitation, team coaching is primarily focused on increasing collective capability and team effectiveness.
By becoming more cohesive, effective and productive, teams increase their incremental performance impact and value.
COACHING CULTURE
Developing a coaching culture across the organisation transforms work environments – more engaging, more compassionate and focused of performance.
We help all people managers to hold more in-the-moment-coaching conversations, providing just-in-time quality feedback that enhances performance and relies less on the annual appraisal.
A coaching culture helps people to grow, thrive and perform.
Our coaching engagement process has six steps, designed to ensure a complete, clear and mutual understanding of the presenting need and the most effective coachee experience is achieved.
We utilise a coaching platform, offered free to our clients, to facilitate the matching, management and measurement of coaching programmes.


Culture First
Build a culture your people and customers will love
Leadership Compass
Develop authentic leaders that people want to follow
Team Connect
Evolve your team of stars into a star team
Engagement Habit
Amplify your employee engagement and grow